In February, I am Coveting...
Hello my loves…can you believe it's already February?!
I swear just a few days ago it was Christmas and I was wading around the beach in Nassau (TAKE ME BACK!). But alas, we're almost TWO months into 2019 and it's almost time for the most "loving" day of the year (and have I got the CUTEST dress for y'all…but I digress).
One of my resolutions this year is to show a bit more of personality on this blog, and share some of me favourite things. So with that, I am sharing a NEW, monthly series, called "this month, I am coveting…" where I will share some of the clothes, accessories, people and destinations that are inspiring me. I often save links, screenshots, texts, emails to myself; everything to remind me of something that I saw that I absolutely LOVE.
So let's see what I am coveting this month…

Going clockwise, starting from the top, left, in February I am coveting…
La niege lip sleeping mask
…La Niege Lip Sleeping Mask. I KNOW, I know, I'm late haha. I got a sample of this at my local Sephora a few weeks ago and oh my goodness, I LOVE it. Thanks to a childhood nervous tick of constantly pursing my lips, I have developed some creasing in my lips and they are always dry AF. This handy little overnight mask has quickly become a must for my nighttime routine. It's super hydrating, enriched with vitamin C, hyaluronic acid and a berry extract and it smells hella good. Buy it at Sephora NOW.
Beautiful cartagena
…a visit to Cartagena, Colombia. Back in 2015, a few of my girlfriends and I took a trip to Aruba, where we had a fairly long layover in Cartagena, so we were able to leave the airport and hang out for a bit. It was gorgeous; and I have been wanting to get back ever since. Part of the Caribbean coast of South America, Cartagena has some absolutely breathtaking views, delicious food, vibrant culture and (let's fact it, this matters) some amazing photo opportunities. I have Spring Break coming up in March, and I have an ACTIVE Google Flight alert going for Cartagena.
asos and the perfect 90's lewk
…Asos Design Curve Square Neck Mixed Fabric Maxi Dress with Split. Isn't this dress sooooooo 90's? The black, column silhouette, the square neckline, the semi-demure split? It literally looks like something right out of a Calvin Klein CK1 ad, just made for curvy girls. The best part is it's made in a jersey knit material, meaning it's super soft and comfortable. This is in my cart, right now. Buy it from Asos.
take mt money staud!!!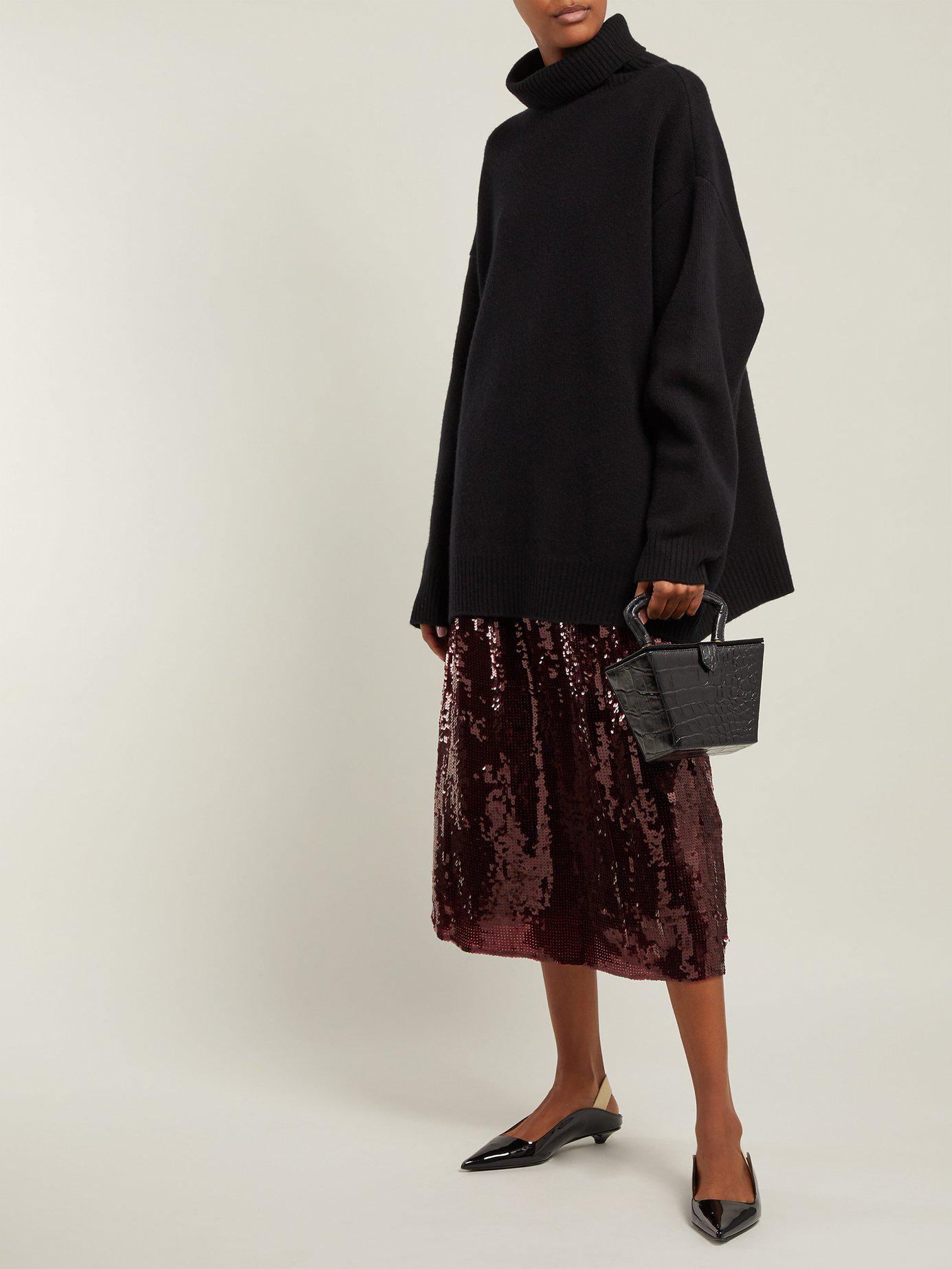 …STAUD Sadie Leather Tote. Isn't this tiny leather tote GORGEOUS? I mean, I saw it on Net-a-Porter and have been salivating ever since. Mini and Micro bags are everywhere and have been since 2018, and they aren't going away, it seems. I have always been a fan of mid-sized bags; not too big, not too small. But lately I have been obsessed with tiny bags, and I think this is going to be a splurge purchase for me (I already purchased a super cute, super affordable faux crocodile mini bag from SHEIN that I plan to wear with EVERYTHING). Purchase this STAUD Sadie Leather tote here.
meghan, duchess of maternity slayage
…EVERYTHING related to the Duchess of Sussex's maternity style. I am not sure children are on the horizon for me (have y'all seen the prices of daycare? My goodness lol), but if it ever happens, I FULLY intend to take a page from Meghan's book. Her effortlessly chic style hasn't taken ONE hit since revealing her pregnancy a few months ago. From one-shouldered Givenchy gowns to sleek H&M-helmed monochromatic looks, Meghan is on FIRE.

That's it for this first edition of things I am coveting this month. Head over to Instagram, or Facebook, or in the comments below and tell me what YOU'RE coveting in February…